Interactive Tools: Maps: 1930 Trempealeau Co. WI Atlas Map

Donated by All Parks Genealogy Group of Florence AZ



The following map contains links to the individual townships that existed in 1930 that will open in a new window to view the individual township maps. An

alphabetized name index

has been compiled and donated to this website to enable researchers to more easily find their Trempealeau Co. ancestors. You will find each index for each township or partial township below the individual township maps.

Also see the 1930 Farmers' Directory for more complete information about many of the landowners of Trempealeau Co..

Locations of schools, cemeteries, churches, as well as names of major roads and railroads at that time are also shown.

PLEASE NOTE: To enable our visitors to better see our maps, the Trempealeau Co. masthead and navigation bars have been removed. This allows for the maps to be viewed at the best quality possible while providing a faster download time for our visitors.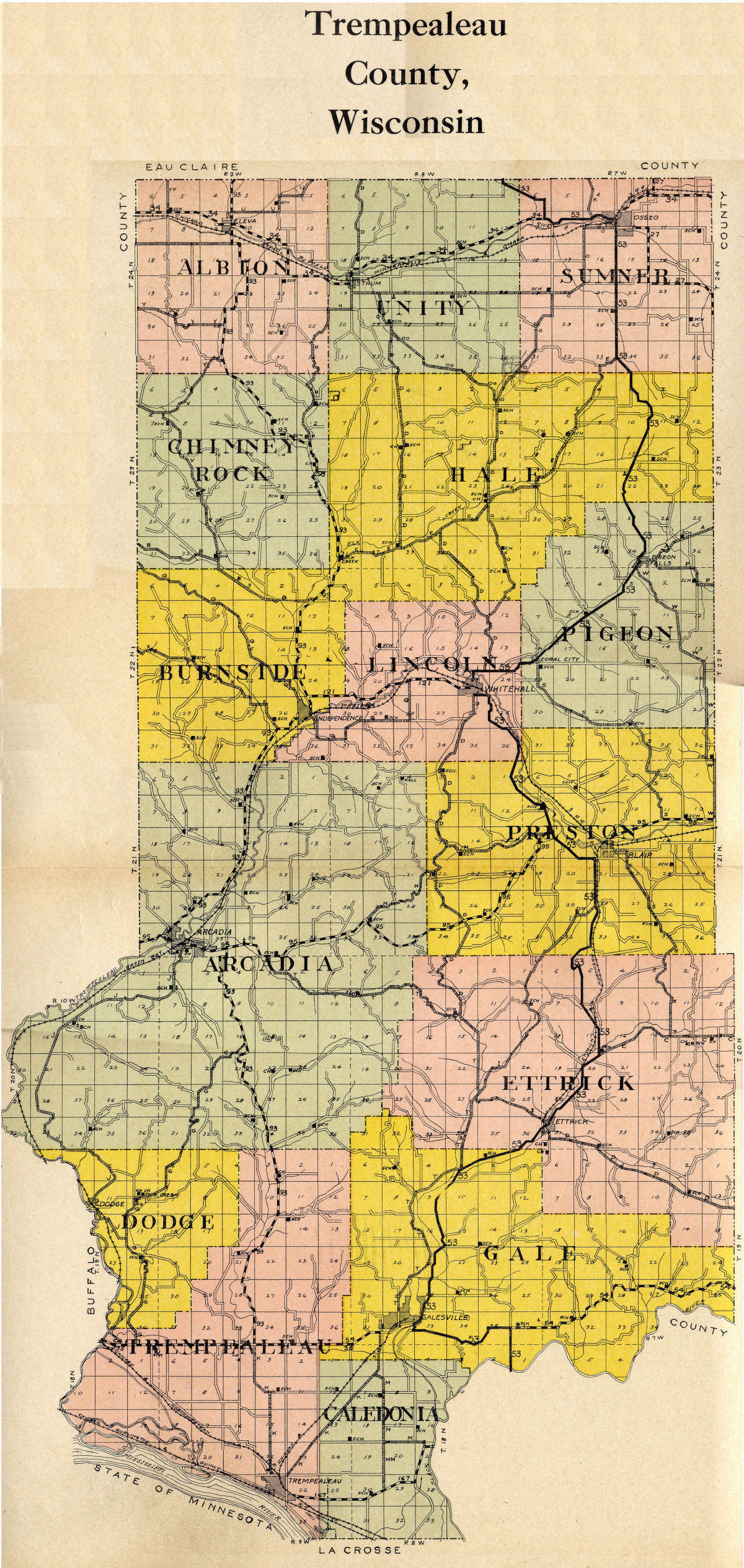 ---
The WIGenWeb Project logo was designed and provided by Debbie Barrett.

DISCLAIMER: No claim is made to the copyrights of the individual submitters. The contents of this website may be used for personal use only by individuals researching their own ancestry. Commercial use of this information for profit is strictly prohibited without prior permission of the owners. Other genealogical websites may link to this website; however, permission is not granted to duplicate any of the contents. Anyone contributing material for posting does so in recognition of its free, non-commercial distribution, as well as the responsibility to assure that no copyright is violated by the submission. This website and its coordinator are not responsible for donations of copyrighted material where explicit written permission has not been granted for use.

____________________________________________________________
Copyright © 2000 - 2012
All Rights Reserved
wigenwebcc
This website was established on 31 Oct 2000